KIM AND PETE: TOGETHER FOREVER…UNLESS?: ANOTHER CELEBRITY BREAKUP IN THE FLAMES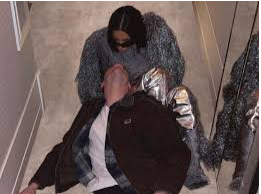 This is why we don't get tattoos of our significant others. Kim Kardashian, an internet persona, and Pete Davidson, a well known comedian, have gone their separate ways after nine months and they claim it was "mutual". 
After a nine month relationship, the couple confirms that they have broken up and Kim's responses are interesting. According to Mirror, Kim K. found the age gap difficult and the tension between Pete and her ex-husband, Kanye West, unbearable. The now broken-up couple has been silent about this decision and is just letting the internet make assumptions. Days after this break up, Pete was seen wearing a shirt quoting "What…I feel like s*!#." 
"Honestly, I thought they were cute together – much better than Kim and Kanye. I'm kind of sad they broke up because he seemed like such a good father figure to the kids and he was very open about how he felt about her. My girl is a lawyer, like what! That is so cute!" said Lily Bounds, 11. 
Many fans speculated that Kanye had Kim styled a certain way, while fans felt that Kim and Pete had a relationship centered on love and having fun.
"I think that being a social media influencer and having the following they have makes their relationship extremely difficult, but I think they could have handled the issues with Pete and Kanye outside of social media. Kanye made everything so public, and I think that is what hurt their relationship the most," Bounds said. 
Social media users and fans of the rapper, Kanye West, have seen his mental breakdowns surrounding Kim K online, and we know the first thing he does is take it to 'the gram'.
Tate Watts, 10, also has opinions on who he ships more; KimPete or KimYe? 
"I ship Kanye and Kim more because Kanye has a lot of money she can use for her fake butt." Fans also have their opinion on who is cuter together but unfortunately both flames have burnt out. Kim K.'s love life is now to be determined.  
Leave a Comment