Three Pines: Adaptation, expansion, and personality
Three Pines:
TW: Violence against Indigenous communities, specifically those of Quebec, Canada.
Seventeen years is a lot of time. 
2005 saw the publication of "Still Life," the first book in Louise Penny's series "Chief Inspector Armand Gamache." Set in Canada, the novels (which now number 18) center around Armand Gamache and his team of detectives and investigators who work at the Sûreté du Quebec (the Quebec police force). Despite having the framing of crime procedurals, the Gamache series is an unqualifiable blend of many mystery subgenres– chiefly the procedural and the cozy. 
This blend is most easily seen in Penny's approach to crime. Gamache goes through the standard steps of investigation (gathering evidence, interviewing, looking for a paper trail etc.), but his revelations and eventual solving of the crime are linked to his understanding of people– not crime. Further, the crimes themselves are never described graphically (in the cozy tradition) and the real focus of the books is the life of Gamache and his co-workers even outside of work (again standard of a cozy). Even while the mystery aspect of the books are serialized, the novels must be read in order for the character-arcs to take shape. 
This humanist procedural (as I've come to refer to it) makes for an engaging and compulsively readable series. It also makes the books ideal candidates for adaptation as the main continuity comes not from specific crimes, but from the personality and charisma of the characters themselves. Of course, these virtues do not (and should not) exempt the stories from either criticism or re-examination.
While Penny's original works do acknowledge the corruption that exists within the Sûreté, and the abuse of the Indigenous communities of Canada, Gamache's complacency within the system is overlooked with the validation that he's trying to fix it from within. Gamache is continually referred to as being extremely insightful, compassionate, and his actions are contrasted against those of the corrupt officers around him.
The result of this is that Gamache is never examined by the narrative, and the audience is placated with the promise that he is not as evil as either the murderers or the system itself and so therefore is good. The books fail to show Gamache's goodness in the present situation. Yes, Gamache is kind, and yes, Gamache cares about the people around him, but any explicit challen of his employers' corruption is relegated to flashbacks and past conversations.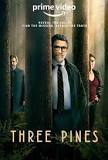 The broad strokes of both series are the same. Chief Inspector Armand Gamache (Alfred Molina) and his co-workers Isabelle Lacoste (Elle-Máijá Tailfeathers) and Jean-Guy Beavoir (Rossif Sutherland) are called to the small town of Three Pines (also the unofficial name of the book series) to investigate a murder. While they solve the initial crime, the three find themselves increasingly entangled in the personal lives of the inhabitants– and their crimes. Yet, Three Pines excels by engaging in self-criticism and expanding on Penny's source-material.
In Three Pines, Gamache is not a saint. He is a good man, but he is blind to power systems that benefit him. In the first episode, the audience is introduced to the Two-Rivers, a Mowhak family headed by matriarch Arisawe Two-Rivers (Georgina Lightning.) Arisawe's granddaughter Blue (Anna Lambe) is missing. The Two-Rivers have been repeatedly dismissed by the Sûreté, who have closed the case.
Gamache himself is hesitant to reopen the investigation, believing the initial verdict to be correct. It isn't until he interacts with Blue's mother Missy (Crystle Lightning) that he agrees to re-investigate, and even then Gamache is hasty to reach a conclusion and wrap up the case once again. 
However, further into the series, Gamache becomes more aware of his own blind-spots and takes action to correct his previous thinking, eventually realizing Two-Rivers' disappearance is a direct result of police abuse.
Lacoste also pushes Gamache to become more aware, repeatedly questioning both the system at play and her role within. Like Gamache, Lacoste seeks to change the Sûreté from within, but unlike Gamache, Lacoste finds herself grappling with what it means to be a Native woman trying to dismantle a system of abuse. This confusion is only furthered by her own adoption by white parents, and subsequent removal from her Native culture. 
Three Pines has no problem posing these questions to the audience as well, forcing them to consider the oft-overlooked aspects of Canadian history with regards to the mistreatment and abuse of the Indigenous populations. And perhaps more powerfully, Three Pines does not see to easily answer these questions surrounding contemporary power dynamics. The audience can neither deny the atrocities, nor reconcile with them in a clean way– it is an ever changing and ever necessary conversation that lingers. 
These questions are not confined to the Sûreté either, and find their way into all aspects of the show. Within the town of Three Pines, there is a center for Indigenous art called Be Calm, headed by Bea Mayer (Tantoo Cardinal.) Bea herself is haunted by her time in a residential school in Three Pines, which is still standing and has been converted into a house by one of the characters. The legacy of violence is explored deeply, as are themes of loss, guilt, and progress. No town is free of its own history.
Unfortunately, the show does miss some opportunities to turn this expository energy in on its own characters. Parts of the characters are analyzed, but many aspects of their personal lives remain unknown and unexplored. The home lives of both Lacoste and Beauvoir are discussed in vague terms, but never concretely enough to paint them accurately outside their jobs. The audience knows Lacoste has kids, but only sees them once. The audience knows Beauvoir's marriage is struggling, but never sees his wife. 
Gamache's life is only explored slightly more. His wife Reine-Marie (Marie-France Lambert) is see on-screen numerous times, and the pair have extended conversations. Yet, most of their interactions are directly relevant to the case of the episode, or otherwise involved in the plot. Gamache doesn't even mention having children until the final episode, by which point the addition is more jarring than endearing. It begs the question why he didn't mention his children before, and makes the audience wonder what his life is truly like.
There is certainly intimacy with the characters, but this intimacy is tied to feelings of tension and suspense rather than direct relation or familiarity. The series still functions without this intense familiarity, but would have been better served by its inclusion.
However, this is a minor complaint in the face of a thought-provoking and highly original yet accurate show. It's a first season that promises further improvement and discussion. For those who already love mystery, it's a fresh perspective on well-worn tropes. For those hesitant to begin viewing because of their allegiance to Penny's work, it's an adaptation that does the books proud and even improves them.
7.5/10 would explore Three Pines again
Further Breakdown:
Writing Quality: 8/10            Enjoyability: 8/10
Pace: 8/10                                Visual elements: 9/10
Plot development: 8/10         Insightfulness: 9/10 
Characters: 8/10
Further resources about the history of Indigenous communities in Canada:
Indigenous Foundations: The Residential School System
Facing History: Who Are the Indigenous Peoples of Canada?
Leave a Comment