Only Murders in the Building : A Funny and Fresh Whodunnit
ONLY MURDERS IN THE BUILDING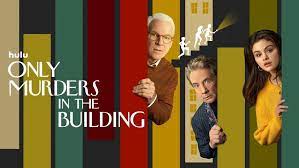 It's difficult to create a unique mystery, mostly because it's near impossible to escape the tropes of the genre. The same tropes and cliches that make mysteries work (locked rooms, mysterious detectives, vindictive suspects) are the tropes that make them repetitive and boring. As someone who has read and watched a lot of mysteries, I'm always hoping that new mysteries will manage to capture the magic of the genre while making it their own, but I always prepare myself for something subpar. I was excited going into "Only Murders in the Building" and left content with a solid mystery, captivating characters, and original storytelling.
Streaming on Hulu, "Only Murders in the Building" (OMB) is a ten-episode series set in the New York City apartment complex The Arconia. After someone pulls the fire alarm of The Arconia, true-crime enthusiasts Mabel Mora (Selena Gomez), Charles-Haden Savage (Steve Martin) and Oliver Putnam (Martin Short) meet while waiting to be let back into their apartments, only to discover that fellow tenant Tim Kono (Julian Cihi) has been found dead. The three immediately begin their amateur sleuthing, documenting their investigation on the podcast created by Oliver: "Only Murders in the Building."
What makes the show impressive is its seamless blend of comedy, intrigue, and character. Effectively walking the line between a funny mystery and one that takes its topic seriously is a tricky feat. OMB is chock-full of laughs, but there are also scenes dedicated to the harsh reality of the situation. It avoids making Tim Kono's death a mockery while also not taking itself too seriously. This can definitely be credited to the well-written script and the acting capabilities of Martin, Gomez, and Short, who convincingly play the scenes. The show is kept suspenseful and intriguing not just by the main conflict, but by the audience's love for the characters.
In fact, all of the characters have subplots involving their personal lives: Oliver's complicated relationship with his son, Will (Ryan Broussard), Charles' hesitance to pursue a new relationship with Jan (Amy Ryan) after being hurt by his last girlfriend, and minor spoiler -the impact of Mabel's childhood friendship with Tim Kono and her 'Hardy Boys' which includes suspect Oscar (Aaron Dominguez)-spoiler ends. The main three are forced to confront their own emotions and past hurts in order to deal with the mystery and current problem in front of them. The mystery is figuring out who Tim Kono was, not only who killed him. 
The focus on the characters is made possible by the directing style. Each of the ten episodes features voice-over from someone involved in the narrative. Of course, Mable, Charles, and Oliver have their own episodes, but side-characters such as Jan and Detective Williams (Da'Vine Joy Randolph) get a spotlight, as well as suspects Theo Dimas (James Caverly) and Oscar, and the final episode is narrated by Tim. This not only gives the audience a more complete picture of the crime, it creates a distinct feel that sets OMB apart from other whodunnits.*
If I had one critique, it would be of the way the podcast and true crime are handled. In episode eight, Fan Fiction,  the trio finds that their podcast has a highly dedicated- though small- fan base. Throughout the course of the episode, Oliver, Charles, and Mabel use their super fans to aid in their investigation, but also face the harsh reality of having fans: people who provide endless support but demand a lot from them. Integrating the fans works, but it unintentionally hits a deeper topic: The ethics of using Tim Kono's death for a podcast. Mabel's mother actually mentions this to Oliver and Charles in one of the earlier episodes, begging them to end the podcast for Mabel's sake. She argues that the podcast is exploitative, forcing Mabel to relive the worst moments of her life, which is true. It's understandable why the show didn't delve into this, for both time and tone reasons, but the ethics of the true crime podcast OMB is a valid question. (The show sort of pokes fun at itself in this regard, making fun of Oliver for attempting to sell OMB merch.)
Despite this, I loved OMB and would highly recommend it. It's a fun whodunnit that provides a welcome break from bleak mysteries while also having emotional weight. The characters are likeable, the case intriguing, and the journey well worth-it. If you like mysteries, want to try a mystery, or just saw an ad and found yourself interested, its worth the watch. 
9.25/10 would live at the Arconia again
Further breakdown:
Writing Quality: 9/10                   Enjoyability: 9.5/10
Pace: 9/10                                      Visual elements: 10/10
Plot development: 10/10            Insightfulness: 8/10 
Characters: 10/10
* My favorite episode from the first season is seven: The Boy from 6B which features almost no dialogue.
Leave a Comment