Disclaimer: For those who don't know, 'Barbenheimer' refers to the simultaneous release of Greta Gerwig's Barbie and Christopher Nolan's Oppenheimer– both of which came to theaters July 21. While I initially considered reviewing both movies together, I've decided this contradicts my larger feelings surrounding Barbenheimer. Consequently, I've decided to write my reviews as a three part series, starting with Barbie, following with Oppenheimer, and concluding with observations and takeaways about these movies as individual pieces and as a collective. The Barbie and Oppenheimer reviews will function as standalone pieces, with the reflections piece being the only one to acknowledge both movies' content together.
I distinctly remember ordering tickets to Barbie and congratulating my own cleverness. I'd decided to watch the Barbenheimer double feature– on the premier Friday no less– and was planning to see Barbie second. I assumed Barbie would be the emotional pick-me-up I needed after the three-hour emotional drain of Oppenheimer. I was half correct. 
Oppenheimer was emotionally draining, but Barbie was emotionally honest– and it knocked me off my feet.
Barbie is about Barbie– or Stereotypical Barbie (Margot Robbie)– who lives a perfect life in Barbieland with all of her other Barbie friends (Alexandra Ship, Emma Mackey, Issa Rae, Hari Nef, and Sharon Rooney) and the Kens (Ryan Gosling as the main Ken, with smaller roles for Simu Liu, Kingsley Ben-Adir, and Ncuti Gatwa). Despite the surface-level perfection of their world (which is entirely female led and run), Stereotypical Barbie begins to feel discontent, she thinks about death, becomes anxious, and physical symptoms soon follow that threaten her perfect exterior. Determined to fix her problems, she confronts Weird Barbie (Kate McKinnon) who tells Stereotypical Barbie she must travel to the real world in order to help the human playing with her. As Stereotypical Barbie sets out to help Sasha (Ariana Greenblatt) and eventually Gloria (America Ferrera), she must confront the inequities of the real world, and the complicated legacy of Barbie within it. And, when she travels back to Barbieland to find that the problems of the real world have infiltrated her safe haven, she must confront her growing complexities, and the complexities of the world around her.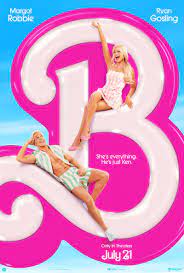 Barbie was important to me on both a story and a representative level. The movie itself is not only deeply funny and campy, but also an honest look at patriarchy and sexism. I felt very seen by a movie that unapologetically took on double-standards, harassment, and the struggle to exist in male-dominated spaces. Undeniably, it also felt nice to have a movie marketed explicitly to me. It was fun to see the Barbie posters go up– a bright pink contrast to many of the harsher designs– it was fun to watch trailers that featured almost exclusively women and that used stereotypically feminine things in a positive way. It was fun to go to the theater dressed in pink and see a sea of femme people doing the same. So when I talk about Barbie, it's impossible for me to separate my love of the story with my love of what it represents– media for femme people, with femme people, by femme people. 
What I appreciate most after my second viewing is that, in addition to celebrating its target audience, Barbie is not interested in trying to appeal to everyone. It touches on experiences many femme people have (fears of aging, beauty-standards, feeling unfit, feeling imperfect, being made to feel insecure and slight, being undermined) without trying to explain them to people who have not had these experiences themselves. It's not an educational resource for men so much as an acknowledgement of the day-to-day slights of being femme.
Barbie certainly takes on misogyny, but not in a global way. It's not about fixing misogyny, or changing the power structures of the real world, and in not presenting itself as a solution– or even a particularly intricate discussion of sexism– it succeeds in being an escapist, but affirming piece. It operates as a validation of the difficulties faced by femme people. It gives credence to all the little hurts and insecurities that go undiscussed– whether it has been intentionally ignored or consistently downplayed.
The treatment of Kens in Barbieland is a direct parallel to the treatment of women in the real world, and in presenting sexism against men so blatantly, it calls attention to the ridiculousness of all sexism in all places. 
Beyond these head-on confrontations, Barbie is ultimately a celebration of femme people, their relationships, and their identities.
Barbie displays numerous positive female-female relationships. There is the love of a mother and a daughter, female friends, a female mentor and mentee, and the female on her own. It is a commemoration of the plentiful things femme people have accomplished, both acknowledged and un.
In the world presented by Barbie, utopia consists of femme people having positive relationships with one another and with themselves. It is a world in which femme people feel they are allowed to succeed, and feel their success belongs to them. It is a world in which femme people can disagree without being pitted against each other– they can want different things and still be close. 
If nothing else, Barbie matters for the way it encouraged femme people to have positive discourse– even if this may be interpreted incorrectly. 
When media is made for any group of people who have been oppressed or subjected to unfair treatment, discourse can be dangerous. In the past, discourse has been used to divide a group, and undermine the importance of telling their stories– it's reductive reasoning, and one that relies on the assumption that people are a monolith.
In actuality, discourse is an endorsement for more stories; it is a reminder that no group is a monolith.
Even if Barbie wasn't financially successful (which it was), and even if it wasn't received positively (which it largely was), and even if it hadn't been good (which it was), it would still be important for the conversations it started. 
Opening the floor for femme people to discuss representation (and the complexities of other intersecting identities) may well be the first step to utopia.
10/10 would get emotionally wrecked by a doll again
Further breakdown:
Writing Quality: 10/10                   Enjoyability: 10/10
Pace: 10/10                                       Visual elements: 10/10
Plot development: 10/10                Insightfulness: 10/10
Characters: 10/10