Disclaimer: For those who don't know, 'Barbenheimer' refers to the simultaneous release of Greta Gerwig's Barbie and Christopher Nolan's Oppenheimer– both of which came to theaters July 21. While I initially considered reviewing both movies together, I've decided this contradicts my larger feelings surrounding Barbenheimer. Consequently, I've decided to write my reviews as a three part series, starting with Barbie, following with Oppenheimer, and concluding with observations and takeaways about these movies as individual pieces and as a collective. The Barbie and Oppenheimer reviews will function as standalone pieces, with the reflections piece being the only one to acknowledge both movies' content together.
My hesitance to watch Oppenheimer was two-fold. 
My first concern was the result of character likability, and the tendency of stories to make– or position– their main characters as faultless because they assume 'likable' and 'compelling' are the same thing. This problem exists in all genres across all media, but can be particularly dangerous in the case of biopics or any movie that presents itself as being factual. Fictional people should not be made abstractions, let alone representations of real people.
My second concern was also the result of narrative conventions, but of a type of story rather than the characters within. War stories are a delicate thing, especially World War II war stories. World War II firmly cemented the U.S. as a global power in the mid to late part of the twentieth century, and despite a late entrance into the war, it garnered the U.S. a reputation for being a global protector of democracy and freedom. Democracy and freedom are also ideals heavily tied to US patriotism, and, taken to the extreme, nationalism. 
Many of the war stories I've encountered– especially those dealing with WWII– lean into the rampant patriotism of the time and disregard self-examination as a consequence. These stories focus on US glory rather than the complicated legacy of the war– the internment of Japanese (and many Asian) American citizens, the blind eyes turned toward Europe and the scope of what was happening to the Jewish citizens there, and of course, the long-lasting impacts of the bombing at Hiroshima and Nagasaki.
So, when I saw the Oppenheimer trailer, I hesitated. And even as my interest piqued the closer to the release date I got, I hesitated. And it wasn't until the appeal of the Barbenheimer double-feature and a friend asking me to go that I set aside my reservations and watched Christopher Nolan's three hour character study.
Oppenheimer is, naturally, about J. Robert Oppenheimer (Cillian Murphy) an American scientist of German Jewish ancestry. After years of studying and building a theoretical physics programs, he is recruited by General Leslie Groves (Matt Damon) and fellow physicist Ernest Lawrence (Josh Hartnett) to help in the U.S.' WWII war effort. This effort consists is a nuclear weapons program, which inevitably becomes the Manhattan Project and leads to the creation of two atomic bombs– Little Boy and Fat Man.
Oppenheimer is not only about the war, however, it is also about the political and personal fallout of the Manhattan Project and the people involved. In addition to his career, Oppenheimer details the relationships of it's titular main character with the other people in his life– his wife Kitty (Emily Blunt), his mistress Jean Tatlock  (Florence Pugh), his colleagues Edward Teller (Benny Safdie) and David L. Hill (Rami Malek), his brother Frank Oppenheimer (Dylan Arnold), his relationships with political ideologies like Communism, and most strikingly, his relationships with his opponents.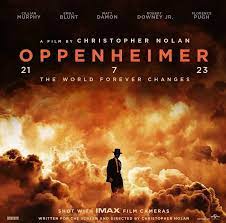 Oppenheimer is a non-linear story. One timeline (recognizable for its use of color) follows the title character through his schooling, formative relationships, and eventual contribution to the Manhattan Project. The other timeline (in stark black-and-white) follows the current day Oppenheimer as he fights to keep his government security clearance. Meanwhile previous Oppenheimer collaborator Lewis Strauss (Robert Downey Jr.) faces hearings to be confirmed to the president's cabinet.
The separation of these timelines not only allows for more extensive character work– allowing the audience to spend decades with the same people as they change– but also allows Nolan to make the style elements of his movie their own character. The colorization of the first timeline gives a greater sense of hope– a war with a purpose– compared to the drab, extreme, petty world of politics. The relative silence of the black-and-white as compared to the constant bustle of the color contributes to this apparent optimism and inevitable downturn as Oppenheimer's legacy becomes increasingly complicated.
There's a lot the actors have to play against. The extended cast, expanded use of sound, color, and visuals, and the complexity of the topics runs the risk of overwhelming the people within it. Yet, all the performances stand out as being particularly strong. Of course, much of this weight rests on Murphy, but it's impossible to pinpoint a performance that isn't spot-on.
The result of anchoring a story with a complicated timeframe and political atmosphere is a movie that effectively explores a myriad of people and their relationships with themselves, each other, and their country. It's a movie that asks questions about how we treat each other, how we form our beliefs, and how we rationalize our own behavior. It is not blindly accepting of WWII and the atomic bomb, and it doesn't attempt to remember these in a solely positive way. It details the toll of these events on the people involved in their creation, and their own changing perspectives on their moral code and ethics.
Despite its self-criticism, Oppenheimer is still a story about a particular man, and a particular group of people. Even when the movie does not give the U.S. a pass on their decisions, the events of the stories are all told from an American perspective. Simply put, some considerations and perspectives aren't included. Oppenheimer doesn't include a Japanese perspective on the atomic bombs, nor does it include a Japanese-American perspective. It doesn't consider the female scientists involved in the Manhattan project, or consider its female characters outside of their relationship with Oppenheimer himself.
And I don't present these things as direct detractions from the movie, but rather as an acknowledgement that all of these different stories about the same chapter in world history are important and deserve their own space to be told. And more importantly: we need to actively create space to tell these stories. It is through the challenging of traditional narratives that we understand our own history.
9/10 would think about the intricacies of politics again
Further breakdown:
Writing Quality: 10/10                   Enjoyability: 9/10
Pace: 10/10                                      Visual elements: 10/10
Plot development: 10/10               Insightfulness: 9/10 
Characters: 9/10