I don't remember exactly when it happened, but I know at some point I made peace with the fact that I would never be smart enough to understand all music. Eventually, I realized playing piano, listening to music, and learning music theory was not going to put the pieces together. For someone who loved (and loves) piano, and who has a deep love of theater and musical theater, it was a difficult realization. I would never be the person who could enjoy music because they understood what made it special– the little intricacies, the hidden meaning, the subtle composition.
Stephen Sondheim musicals helped me through this. I figured no one was smart enough to fully comprehend what made his music so magical– except the composer himself– and in thinking this, allowed comprehension to become a secondary sense to feeling. The technicalities of music began to fade away, and emotion replaced it.
Sondheim's music is visceral if not emotional. There's no way to listen to it without reacting, but the reaction is not always pretty. His music resists simple or easily understandable emotions. It's sadness, happiness, joy, anger, disappointment, disgust, loss, confusion, regret, or some combination of these things. His music also resists attractiveness. It's not always pretty; it's often intentionally dissonant, and this allows his work to convey the power of the human experience not only through words, but through sound.
For all of Sondheim's stories, but especially the deranged, paradoxical Sweeney Todd: The Demon Barber of Fleet Street, conveying the turmoil of character's lives through sound is a necessity. It is only in the overwhelming strings of an orchestra, or the ringing of brass that the full depth of their emotions can be reached.
Sweeney Todd is part drama, part fable, and part dark comedy. It is the story of it's eponymous main character, Sweeney Todd, a barber bent on getting revenge on Judge Turpin– the man who ruined his life. Years earlier, Todd was married to a woman named Lucy with whom he had daughter Johanna. Desiring Lucy, Judge Turpin falsified charges and sent Todd to a penal colony so as to have access to his family. When Todd returns years later to find his family, he instead finds a woman named Mrs. Lovett living in his old house, is told Lucy is dead, and finds that Johanna has become Judge Turpin's ward. What starts as a quest for revenge against one man quickly spirals out of control as Todd's plans are complicated by Mrs. Lovett, Turpin, an orphan named Toby, and young sailor Anthony.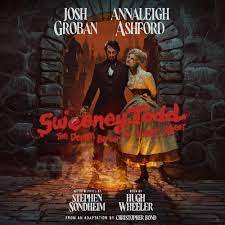 Sweeney Todd initially came to Broadway in 1979 with Len Cariou as Todd and Angela Lansbury as Mrs. Lovett (my first introduction to the show was by way of this original cast recording and later a BBC recorded performance of the show). The show closed in 1980, and despite it's success– and numerous West End productions– didn't return to Broadway until spring of this year with Josh Groban and Annaleigh Ashford in the starring roles.
In early summer, the 2023 production began releasing songs from the cast album, and some time later, the full album was announced. The waiting period between this announcement and the album's release on Sept. 8 was one of the longest of my life. Now, I can safely say the wait was worth it.
For those with extensive experience with the source material, this recording's rich, intense orchestrations and performances are worth experiencing. For those new to the story, this recording is an accessible, incredible rendering of the narrative and score.
The cast anchors the album with strong, complimentary performances. Groban is undoubtedly up to the part with his sorrowful interpretation of Todd. His chemistry with Ashford's exuberant, charismatic Mrs. Lovett is undeniable, and their duets are a highlight of the album. In their supporting roles, Jordan Fisher as Anthony, Maria Bilbao as Johanna, and Gaten Matarazzo as Toby steal any song they are a part of and effectively add a youthful hope and naivete to the gruesome story. Ruthie Ann Miles is nothing short of haunting as the Beggar Woman– her refrains lingering in my mind long after their conclusion– and Jamie Jackson as Judge Turpin is appropriately unsettling. 
Together, the mesh of different voices and the lush 26-piece-orchestra transports the audience into the music. Even if you don't like musicals, Sweeney Todd's biting critique of class, justice, and performative virtuosity is sure to stick with you. And, if you love musicals, you'll feel the musical motifs in your bones long after the finale ends.
9.5/10 Would be horrified and compelled again
Further breakdown:
Writing Quality: N/A                    Enjoyability: 10/10
Pace: N/A                                     Visual elements: N/A
Plot development: N/A                 Insightfulness: 9.5/10 
Characters: 9.5/10
A great song from each performer (I couldn't pick a favorite):
Josh Groban as Sweeney Todd: "Epiphany"
Annaleigh Ashford as Mrs. Lovett: "The Worst Pies in London" or "Poor Thing"
Jordan Fisher as Anthony: "Johanna" 
Maria Bilbao as Johanna: "Kiss Me (Pt. 2)" or "Green Finch and Linnet Bird"
Gaten Matarazzo as Toby: "Not While I'm Around"
Ruthie Ann Miles as The Beggar Woman: "Johanna (Act 2 Sequence)"
Jamie Jackson as Judge Turpin: "Pretty Women (Pt. 2)"
Recognition for John Rapson as minor character Beadle Bamford who lends an amazing falsetto to several songs.