MARVEL STUDIOS STEP UP THEIR GAME
Marvel makes post-COVID comeback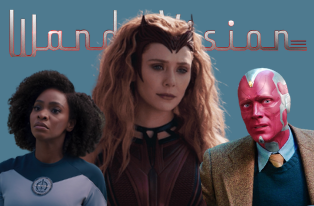 The Marvel Cinematic Universe, MCU, owned by Disney, is renowned worldwide. With a yearly routine of releasing 2-3 movies, the exception of 2020, when the world came to a halt, froze the illuminating world of superheroes as well. 
MCU was no exception to the effects of the pandemic and like countless other industries, this world crisis caused Marvel films to be set back. The filming and production of movies went off course. The start of filming and the time the film was released to the public were both dramatically increased due to actors getting sick, as well as safety precautions being taken.
For example, "Black Widow" was originally supposed to come out on May 1, 2020. However, it is now set to be released on May 7, 2021 – a year and six days later. 
Like countless other fans, Christopher Ortiz, 10, was looking forward to the Black Widow movie. 
"I feel a little disappointed," Ortiz said. "Although the [cause] of the setback was Covid, so I understand. They did push it back again and that really just disappointed me. I was really excited to see it." 
"WandaVision" was the first new content the MCU released after production resumed. After each weekly episode appeared on Disney+, fans were astonished and spent their time researching what the next episode would possibly bring. 
"I spent a lot of my time looking at theories on TikTok and Twitter and getting their feedback," said Kaylee Serrano, 12. "It was not deep research, but I would look up people's opinion and more specifically opinions on Wanda herself and the show as a whole."
According to comicbookmovie, "WandaVision" was originally planned to be released before "Falcon and the Winter Soldier." However, "WandaVision" sets up "Doctor Strange in the Multiverse of Madness," which was delayed with a release date of March 25, 2022.
"I actually think it was a good decision because the show in general was a change of pace for the MCU and it was trending," said Serrano. "'WandaVision' was a good start off for phase four because it sets up "Doctor Strange in the Multiverse of Madness" and also the other characters like Darcy [Lewis], Jimmy Woo, and Monica [Rambeau]."
Apart from the overwhelmingly positive reviews, "WandaVision" shows that the MCU is taking a bigger step into the direction of comic books. This leaves the MCU's phase four open to diverge in countless approaches. 
"I am very excited about what's next to come," said Micheal Allred, World history teacher. "'WandaVision has multiple people in it that have roles in multiple other movies."
Leave a Comment